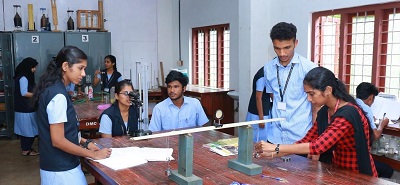 Physics lab is well equipped with all the facilities and equipment required for the students to do experiments as part of their syllabi. The labs are spacious enough and a full-time lab attendant is appointed for the smooth functions of the lab.
Physics Lab Rules
Visit the Lab. thoroughly prepared to do the demonstration/experiment.
Students have to follow all written and verbal instruction by the Instructor/Lab Assistant.
A minimum of 75% attendance along with the Lab Reports are compulsory to attend the practical examination/s.
Personal apparel should be appropriate for the Laboratory work.
Lab. work must be performed only under the supervision of the Instructor.
Do not leave the equipment unattended while it is being used.
Only textbook/s and notepad/s required for the demonstration/experiment are to be brought to the Lab.
Be extremely cautious in handling the equipment, and follow the instructions for their use.
No outsiders are permitted in the Lab.
Report all accidents, no matter how minor, to the Instructor/Lab Assistant immediately, and awhile of medical assistance, in case of need.
Report all spills to the Instructor immediately..
Student Lab. Report must be approved by the Instructor.
DO NOT perform demonstrations without permission or use materials and equipment in a manner for which they are not intended.
Stay alert in the Lab, and always proceed with caution.
Use extreme CAUTION when working with hot apparatus or other heating devices.
Be careful when working with the electrical equipments.
Keep the Lab and the apparatus clean after demonstration/s, especially the sink.
Violation of Lab Rules will necessitate loss of Lab. privileges and/or serious disciplinary action/s.